G.N.K.S Technologies specialize in web design in east Delhi, India. We provide best creative & responsive website designing services. G.N.K.S Technologies is a recognized name in the web design business industry, serving various types industries from small to big. We convert your business ideas into a beautiful and working website design that helps you grow your business. For rapid online business development, our prime focus is to create interactive internet business with a combination of creativity, experience, quality and affordability. We are here to help you succeed online.
We care our client's success and create result driven website design solutions by ensuring your website is performing well and you are getting the best output in your business as a value for money. As a full service web designer company we are serving almost every industries. G.N.K.S Technologies is providing best long term support for web design services in Delhi, India.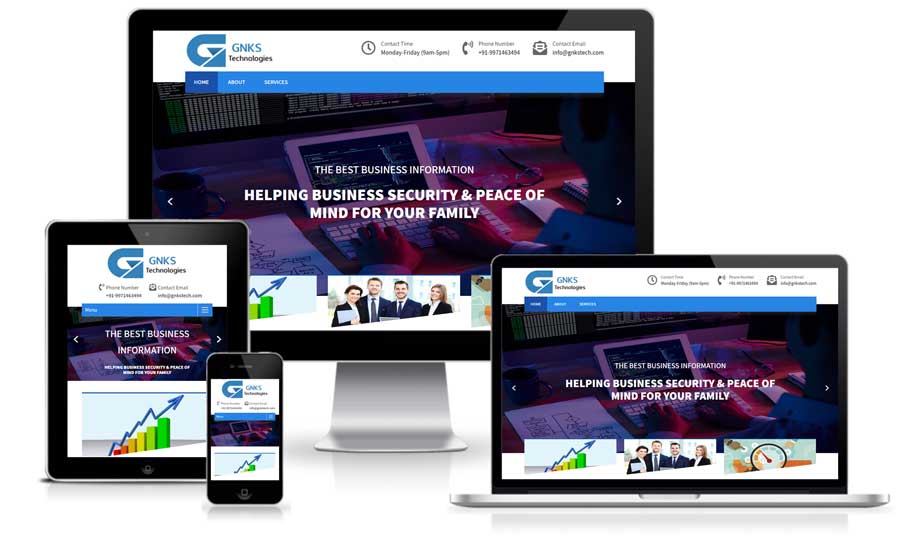 Static websites are the simplest type of websites, which has not changed data and no admin panel. If you have a small store, or any kind of business and you are only looking for a website where customers can see your business details and can contact you by email or phone this type of website fulfills all your requirements.
Static websites can help to achieve the below-mentioned goals
New Businesses to get online.
Can be used by Google Ads to get more leads.
Registering a domain and Professional emails
Receive emails from clients.
Run Google ads.
Get leads from contact form.
Responsive and attractive design.
In this type of website, you get an admin panel for particular pages or all pages of the website in which you can change content as per your requirement. You can change your phone number, email, and add more images to your websites whenever you like.
Dynamic websites can help to achieve the below-mentioned goals
Full control of your website by admin panel.
Good if you want to sell something online.
Can be used for online marketing like Google Ads or Bing Ads.
Easy database browsing.
User administration.
Automate user signup using google or FB sign in.
Quick formatting tools.
Fast email checking.
Custom websites type of dynamic website which is complex in designs, these are more secure and fulfill the business needs, it's more of web applications. if you are looking for something like the HR portal and ERP, E-commerce, etc. you may need this website. It will fulfill all your business needs from employee management to sales management.
It is best suited for startups with new idea or business as it gives more Control of the website with a multi-level Admin panel and it can be used with google services