E-School Complete School Management Web Application for Schools to handle School CMS Website, Admissions, Fee Management, Transport, Hostel, Library, Attendance, Assignments, Exams, Promotion, Announcement, Events, SMS, Visitors, Payroll, Accurate Financial Accounting etc. eSchool is fully integrated Complete School Management Web Application introduced to simplify the complexities faced in daily school operations so intelligently and perfectly. As a result within no time, eSchool has reached millions of people and now it is been used by thousands of educational institutions all over the globe for all management, administration and finance related activities.
eSchool web application handles fees management system so easily resulting in no long queues for fees payment leaving behind a great impression in the parents mind. Generates every report as relates to fee management like fee register, monthly summary, defaulters list, dues list, reminder letters, demand bill printing, route wise transportation charges and concession report. In a nutshell, eSchool web application does not save only your valuable time but helps in development and growth of your esteemed organization.
Using SMS Utility in eSchool web application you can Send SMS to all students for fee reminders, homework, holidays, notices, students birthdays in eSchool web application is quite easy. No accounts or computer training required, no experience required. Anyone with knowledge of basic computer operations can operate it very comfortably.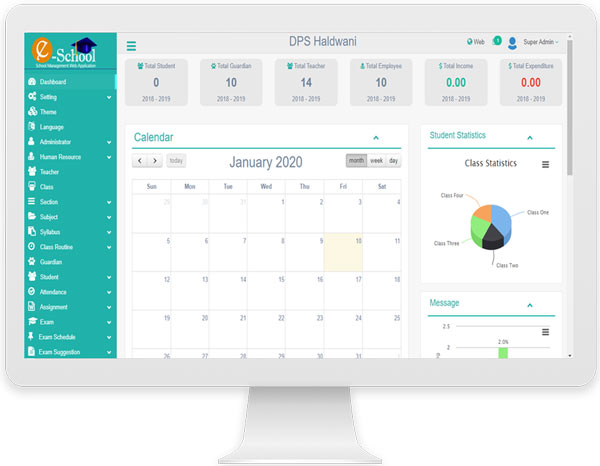 Just click the below  button and fill in the Demo Request form  and one of our support team members will be in touch with you to take you on a Test Drive of this amazing E-School Management System. Not only will we acquaint you with the various features, but we will also help you experience its power and ease first hand.